eclectic Paperie and Add a Little Dazzle Blog Hop–Day 2
tags:
Add a Little Dazzle
,
burlap
,
canvas
,
Dina Wakley Paints
,
eclectic Paperie
,
embossing folders
,
embossing paste
,
emphemera
,
Gelli Plate
,
gelli prints
,
houses
,
metal sheets
,
stencils
by Micki
Welcome to our joint blog hop with Add a Little Dazzle. We are so excited to partner with them and have had so much fun playing with their products. They have a beautiful collection of metal sheets, in a variety of colors, that are perfect for mixed media projects.
Welcome to Day 2 of the Eclectic Paperie & Add a Little Dazzle Blog Hop! We have more exciting projects to share with you as we continue with our Blog Hop.
Missed Day 1? Visit eclectic Paperie blog and Add a Little Dazzle to check out Day 1 of the Blog Hop!
Go ahead and come on in to Day 2 of our blog hop and make sure to enter for a chance to win an amazing prize.
First we'd like to share a little bit about the two companies…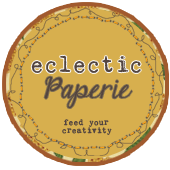 eclectic Paperie blog is a different breed of craft store, conceived as more than just a place where you can purchase supplies, we believe in the strength of collaboration, in coming together and sharing with like-minded crafters. Our goal is to offer a mixed media marketplace where a generation of artists can congregate, explore, imagine, and inspire one another.
Add a Little Dazzle specializes in an exclusive line of craft metal sheets that helps you take your crafting to the next level. Whether you are a seasoned or new crafter, our craft metal sheets will help you create unique projects that will make you stand out among the crowd. Are you ready to take your crafting to the next level? Add a Little Dazzle Craft Metal Sheets will help you turn the ordinary into the extraordinary.
Prize Alert!

Make sure to stop by and visit each of the Design Team Blogs for a chance to win 1 of 2 prize packages from eclectic Paperie and Add a Little Dazzle valued at $25. You have until Friday, June 27th to enter. The winners will be announced on both blogs on Saturday, June 28th. You must leave a comment on all blogs.
So Are You Ready for Some Amazing Inspiration?



I must confess that this is the first time I played with metal. My friend, Starla – Exploring Creativity, first introduced me to metal. Her metal creations blew me away and I swore I would try my hand at playing with metal sheets. Ok, so that was some time ago and stalking the Add a Little Dazzle blog, my intention of trying metal sheets continued to stay on my art bucket list. You can imagine how thrilled I was about this combined blog hop. It was THE push I needed!
Lately I've been having a love affair with creating whimsical houses and the first thing that popped into my head when I received my package of Add a Little Dazzle Craft Metal Sheets was metal roofs. My husband and I absolutely love rustic homes with metal roofs!
The first thing I did was get out my embossing folders and embossed the metal sheets. LOVE how easy these metal sheets are to cut and how wonderful the design of the embossing folders show up.
Once they were embossed, I lightly sanded the surface:
In used metal sheets in Midnight Blue, Ocean Blue and Wondrous White. At the time I placed my order, I didn't know exactly what I was going to create and oh the gorgeous colors available – I had a very hard time choosing which colors to order. BUT while embossing the metal sheets I realized that I could use the colored side or the uncolored side of the metal sheet! Woohoo two for one! And the white was a neutral, which is why I ordered more of the white metal sheets and only a few of the colored ones. After embossing and sanding several pieces, I put these aside to get started on my canvas. I had a rather large burlap canvas – 1 foot by 4 feet long – and yes, I was intimidated!
I grabbed my gelli printed papers and cut several rectangular and square shaped pieces as well as smaller shapes for windows. Before I glued these to the canvas, I gave the whole thing another coat of gesso (even though it was already pre-gessoed). Once that was dry, I painted the whole thing a combination of black and purple. Dried it and then glued the cut paper pieces to my canvas.
I was having a rather hard time getting the whole canvas to fit in one shot. Here is a closer shot of one half of the canvas:
Most of my gelli plate prints are on regular book or notebook paper and I added some old Masonic receipts too. Next I added a light wash of watered gesso:
I didn't realize how different working on a burlap canvas would be as opposed to a regular linen canvas. Even though the canvas had two layers of gesso, it still took more paint to cover sections.
Next I added color to each house:
Then my eyes fell upon my Ranger Alcohol Inks and I decided to use the felt tool to see how they would work with stencils. They work awesomely!!!! You can see the stencil image on the light blue house above.
Next I added the windows and doors using gelli plate prints cut to size. Then I added my metal roofs which I cut in various shapes to resemble roofs. I glued these down using Helmar-450 Quick Dry Adhesive. You'll notice that I did not sand the white metal pieces (I forgot). Because I had excess gel medium left on my craft sheet, I grabbed a couple of stencils and applied the gel medium through the stencils with my palette knife for added texture.
Now as I realized that I had forgotten to lightly sand the white metal pieces, I grabbed my Ranger Alcohol Inks and Felt pieces (the ones that go with the Felt Tool) and added drops of the alcohol inks directly onto the white roofs, followed by lightly dabbing and swiping with the felt. The reason I didn't use the tool was that by using my fingers to hold the felt, it allowed me to get into the crevices.
At this point, I didn't "feel it". You know, that feeling that it's all coming together and starting to look like something. Ah, experience has taught me to ignore that feeling and dip my fingers into paint and go to town. Boy did I! I made myself a paint palette on my craft sheet with every single color of Dina Wakley's paints! I was not careful at all, using my fingers I slapped, scraped, dabbed paint over all the houses:
Very messy but oh so much fun!
At this point, I added some more stenciling using alcohol inks and started adding some dimension by adding shadows using a combination of Faber Castell markers and gelatos.
I also wanted to create a starry night sky, so first I "fixed" the harsh purple around the houses by adding more black paint. Then I made some silver stars in the sky by applying Studio 490's Silver Embossing Paste through Dylusions Starry Night stencil and Wendy Vecchi-Studio 490's Little Bits stencil (only using the stars). Some random silver paint splatters were also added.
My final step before adding embellishment bits and pieces was to define some of the windows and doors a bit more by outlining with my Fude Ball pen. After that it was just a matter of looking through my boxes of embellishments and stickers. Idea-ology embellishments were glued and then sewn – some were just glued since I used brads and glue– to make sure they would stay put. I had some German coins which are no longer good since Germany now uses the Euro and decided to add some of these as windows. After all, perfect way to add some treasures from home to this "Home" canvas, right?
And I'm excited that I remembered that the theme over at Art Journal Journey is HOUSES! Been meaning to play along !
I have already started another smaller canvas with another idea using these wonderful metal sheets. Oh the possibilities are endless! Flowers, boxes, sewn (yes!)….. now check out the rest of the awesome projects created by the design teams and don't forget to comment on each blog to be eligible for one of two prize packages! Thanks for stopping by and good luck!